Cancer
SPECTAcolor's successful start has demonstrated its viability to facilitate next generation cancer clinical trials. It has been successfully implemented across 19 clinical centers located in nine countries in Europe, has now recruited over 500 patients since its launch in September 2013, and the observed frequency of mutations is similar to that observed in previous colorectal cancer clinical trials. In addition, pathological review and core analyses of tumor blocks shipped to the central biobank at Dresden University Hospital for central quality deemed over 98% of the samples were adequate. This successful implementation is evidence that a logistically complex infrastructure to run next generation trials in a multinational setting is feasible.
These results were presented by SPECTAcolor coordinator Dr. Gunnar Folprecht of the Dresden University Hospital at the 2015 Gastrointestinal Cancers Symposium held 15-17 January 2015 in San Francisco.
J Clin Oncol 33, 2015 (suppl 3; abstr 575)
Treatments for patients with cancer are becoming more and more tailored to the molecular characteristics of the particular patient and disease. Consequently, molecularly characterizing a patient's disease is now a prerequisite for them to access the appropriate clinical trial for their particular cancer. Assessing their tumor, however, is more easily said than done, because the required testing is beyond the scope of most hospitals. Cancer is too diverse, so the EORTC built a collaborative molecular screening platform, SPECTAcolor, which provides the necessary infrastructure to screen adult patients with advanced stage colorectal cancer for mutations in colorectal cancer biomarkers.
Scientists have identified more than 800 markers in the blood of cancer patients that could help lead to a single blood test for early detection of many types of cancer in future, according to research presented at the National Cancer Research Institute (NCRI) Cancer Conference in Liverpool today (Sunday).
This is the first time that cancer-specific blood markers have been comprehensively reviewed and identified for further clinical development. This study, by the UK Early Cancer Detection Consortium*, funded by Cancer Research UK, has analysed 19,000 scientific papers and found more than 800 biomarkers.
The aim of this research is to develop a screening test from a single blood sample for multiple cancer types. All cancers produce markers in the blood, so it could be feasible to develop a general screening test for many different forms of the disease.
In the UK, survival rates for cancer are lower than in some other western countries, part of which may be related to late diagnosis. But developing more ways to spot cancers earlier, including research into new screening technologies such as this, could help give more options for curative treatment, and save more lives in the future.
Like a colony of bacteria or species of animals, cancer cells within a tumor must evolve to survive. A dose of chemotherapy may kill hundreds of thousands of cancer cells, for example, but a single cell with a unique mutation can survive and quickly generate a new batch of drug-resistant cells, making cancer hard to combat.
Now, scientists at the Salk Institute have uncovered details about how cancer is able to become drug resistant over time, a phenomenon that occurs because cancer cells within the same tumor aren't identical- the cells have slight genetic variation, or diversity. The new work, published October 20 in PNAS, shows how variations in breast cancer cells' RNA, the molecule that decodes genes and produces proteins, helps the cancer to evolve more quickly than previously thought. These new findings may potentially point to a "switch" to turn off this diversity- and thereby drug resistance- in cancer cells.
"It's an inherent property of nature that in a community- whether it is people, bacteria or cells- a small number of members will likely survive different types of unanticipated environmental stress by maintaining diversity among its members," says the senior author of the new work, Beverly Emerson, professor of Salk's Regulatory Biology Laboratory and holder of the Edwin K. Hunter Chair. "Cancer co-ops this diversification strategy to foster drug resistance."
Instead of looking at a single gene or pathway to target with cancer therapies, lead author Fernando Lopez-Diaz, Salk staff scientist, and the team aim to uncover the diversification "switch" by which cancer cells replicate but vary slightly from one another. Turning off this cellular process would strip cancer's ability to survive drug treatment.
Researchers at the University of Calgary's Hotchkiss Brain Institute (HBI) and Southern Alberta Cancer Research Institute (SACRI) have made a discovery that could prolong the life of people living with glioblastoma - the most aggressive type of brain cancer. Samuel Weiss, PhD, Professor and Director of the HBI, and Research Assistant Professor Artee Luchman, PhD, and colleagues, published their work today in Clinical Cancer Research, which is leading researchers to start a human phase I/II clinical trial as early as Spring 2015.
Researchers used tumour cells derived from 100 different glioblastoma patients to test drugs that could target the disease. When these human brain tumour-initiating cells were inserted into an animal model, researchers discovered that when using a drug, AZD8055, combined with Temozolomide (TMZ) - a drug already taken by most glioblastoma patients - the life of the animals was extended by 30 per cent.
"Shutting off vital tumour growth processes can lead to the death of human brain tumour-initiating cells. Our research has identified a key process in brain tumour growth that we were able to target with AZD8055," says Luchman from the university's Cumming School of Medicine and a member of the HBI.
Researchers used the new therapy to inhibit a pathway in the cancer cells known as mTOR signaling - putting the brakes on this pathway, combined with the current standard therapy, caused more of the cancer cells to die. Scientists are now working with investigators at the NCIC Clinical Trials Group (NCIC-CTG) to start a Canadian clinical trial that may eventually include glioblastoma patients across the country.
UNC Lineberger Comprehensive Cancer Center researchers have developed a new integrated approach to pinpoint the genetic "drivers" of cancer, uncovering eight genes that could be viable for targeted breast cancer therapy.
The study, published online August 24 in Nature Genetics, was authored by Michael Gatza, PhD, lead author and post-doctoral research associate; Grace Silva, graduate student; Joel Parker, PhD, director of bioinformatics, UNC Lineberger; Cheng Fan, research associate; and senior author Chuck Perou, PhD, professor of genetics and pathology.
These researchers studied a variety of cancer causing pathways, the step-by-step genetic alterations in which normal cells transition into cancerous cells, including the pathway that governs cancer cell growth rates. A high growth rate of cells, also known as cell proliferation, is recognized to be associated with poor prognosis for breast cancer patients.
Analyzing multiple types of genomic data, UNC Lineberger researchers were able to identify eight genes that were amplified on the genomic DNA level, and necessary for cell proliferation in luminal breast cancer, which is the most common sub-type of breast cancer.
Thanks to important discoveries in basic and clinical research and technological advances, the fight against cancer has mobilized into a complex offensive spanning multiple fronts.
Work happening in a University of Alberta chemistry lab could help find new and more selective therapies for cancer. Researchers have developed a compound that targets a specific enzyme overexpressed in certain cancers - and they have tested its activity in cells from brain tumours.
Chemistry professor Christopher Cairo and his team synthesized a first-of-its-kind inhibitor that prevents the activity of an enzyme called neuraminidase. Although flu viruses use enzymes with the same mechanism as part of the process of infection, human cells use their own forms of the enzyme in many biological processes.
Cairo's group collaborated with a group in Milan, Italy, that has shown that neuraminidases are found in excess amounts in glioblastoma cells, a form of brain cancer.
A blue-ribbon team of national experts on brain cancer says that professional pessimism and out-of-date "myths," rather than current science, are guiding - and compromising - the care of patients with cancers that spread to the brain.
In a special article published in the July issue of Neurosurgery, the team, led by an NYU Langone Medical Center neurosurgeon, argues that many past, key clinical trials were designed with out-of-date assumptions and the tendency of some physicians to "lump together" brain metastases of diverse kinds of cancer, often results in less than optimal care for individual patients. Furthermore, payers question the best care when it deviates from these misconceptions, the authors conclude.
"It's time to abandon this unjustifiable nihilism and think carefully about more individualized care," says lead author of the article, Douglas S. Kondziolka, M.D., MSc, FRCSC, Vice Chair of Clinical Research and Director of the Gamma Knife Program in the Department of Neurosurgery at NYU Langone. The authors - who also say medical insurers help perpetuate the myths by denying coverage that deviates from them - identify five leading misconceptions that often lead to poorer care:
The Endocrine Society today issued a Clinical Practice Guideline (CPG) for the diagnosis and treatment of two types of rare adrenal tumors - pheochromocytomas and paragangliomas - that can raise the risk of cardiovascular disease and even death if left untreated.
The CPG, entitled "Pheochromocytoma and Paraganglioma: An Endocrine Society Clinical Practice Guideline," appeared in the June 2014 issue of the Journal of Clinical Endocrinology and Metabolism (JCEM), a publication of the Endocrine Society.
Pheochromocytomas are rare, usually noncancerous tumors that form inside the adrenal glands, while paragangliomas are similar tumors that develop outside the glands. The tumors cause the body to produce excess amounts of the hormones epinephrine - commonly known as adrenaline - and norepinephrine, which is involved in regulating blood pressure. Symptoms of these tumors include high blood pressure, episodic severe headaches, excess sweating, racing heart, feelings of anxiety and trembling.
Experts estimate between 0.1 and 1 percent of patients treated for high blood pressure have pheochromocytomas, according to the National Institutes of Health's National Cancer Institute.
People in the late stages of cancer and other terminal illnesses are not only unharmed by discontinuing statins for cholesterol management, they may benefit, according to a study presented Friday by researchers at Duke Medicine representing a national research network.
The finding addresses a thorny question in treating people with life-limiting illnesses: When, if ever, is it appropriate to discontinue medications prescribed for other conditions that will likely not lead to their death?
In an analysis presented at the American Society of Clinical Oncology annual meeting in Chicago, the researchers reported that discontinuing statins in patients with advanced illnesses resulted in improved overall quality of life, lower costs and no increased deaths. In fact, the patients who stopped taking statins appeared to live slightly longer.
"When you look at the number of medications people take when they are dying, it doubles in the last year of life," said lead author Amy Abernethy, M.D., Ph.D., director of the Center for Learning Health Care at the Duke Clinical Research Institute and a member of the Duke Cancer Institute. Abernethy represented the Palliative Care Research Cooperative Group, a national research network focused on improving care for people with serious illnesses.
Scientists have found a way to target elusive cells that suppress immune response, depleting them with peptides that spare other important cells and shrink tumors in preclinical experiments, according to a paper published online by Nature Medicine.
"We've known about these cells blocking immune response for a decade, but haven't been able to shut them down for lack of an identified target," said the paper's senior author, Larry Kwak, M.D., Ph.D., chair of Lymphoma/Myeloma and director of the Center for Cancer Immunology Research at The University of Texas MD Anderson Cancer Center.
The cells, called myeloid-derived suppressor cells (MDSCs), are found abundantly in the microenvironment around tumors. Created with other blood cells in the bone marrow, they interfere with activation and proliferation of T cells, the immune system's attack cells. MDSCs have been shown in mouse models to accelerate cancer progression and metastasis.
"This is the first demonstration of a molecule on these cells that allows us to make an antibody, in this case a peptide, to bind to them and get rid of them," Kwak said. "It's a brand new immunotherapy target."
A colon cancer screening method that analyzes DNA from stool samples won the unanimous backing of a U.S. advisory panel on Thursday, paving the way for potential regulatory approval of the non-invasive test.
A panel of outside experts advising the Food and Drug Administration voted 10-0 to recommend approval of the Cologuard screening test made by Exact Sciences Corp.
The company said a large clinical trial found that its test detected 92.3 percent of colorectal cancers in average-risk patients based on a combination of DNA and hemoglobin markers.
While a colonoscopy is considered the most accurate method of detecting colon cancer and polyps, many people avoid the test, which involves inserting a flexible tube into the colon.
Pfizer Inc's Xalkori delayed progression of lung cancer longer than chemotherapy in patients who had never previously been treated for the disease, according to results of a late-stage study released on Tuesday.
The medicine, which received U.S. approval in 2011 for lung cancer patients who have a specific gene mutation, had shown in a previous Phase III trial that it significantly delayed disease progression among those who have already undergone chemotherapy for non-small-cell lung cancer, the most common form of the illness.
Pfizer said favorable results from the latest trial, combined with those from the earlier big study, establish that Xalkori is appropriate for first-line as well as second-line use, meaning for patients receiving initial treatment as well as for those who have already undergone chemotherapy.
Massachusetts General Hospital (MGH) investigators may have found a way to solve a problem that has plagued a group of drugs called ligand-mimicking integrin inhibitors, which have the potential to treat conditions ranging from heart attacks to cancer metastasis. In a Nature Structural & Molecular Biology paper receiving advance online publication, the researchers provide a structural basis for the design of new and safer integrin inhibitors.
Integrins are receptor proteins found on the surface of cells that determine whether or not cells adhere to adjacent cells and the surrounding extracellular matrix. Under normal circumstances, integrins only become activated - which allows them to bind to other cells or extracellular molecules - in response to specific signals from within the cell. If integrins become overactive, cells become too "sticky" - leading to clogged arteries, pathological inflammation, the excess tissue growth called fibrosis or the spread of cancer. Current drugs developed to inhibit integrin activation by mimicking the shape of ligands - the molecules that interact with receptors - have had unintended effects in some patients, and as a result only a handful have received FDA approval.
"Integrins have an intrinsic ability to shape-shift when they switch from an inactive to an active, adhesive state," explains M. Amin Arnaout, MD, director of the MGH Leukocyte Biology Program and the Inflammation and Structural Biology Program, senior author of the study. "Unfortunately, under some circumstances the integrin inhibitors that have been developed to date can inadventently induce this shape shifting, and use of these drugs have produced serious, sometimes fatal side effects such as excessive bleeding."
University of Pittsburgh Cancer Institute (UPCI) scientists have shown that old drugs might be able to do new tricks.
By screening a library of FDA-approved anticancer drugs that previously wouldn't have been considered as a treatment for a rare type of cancer, UPCI scientists were surprised when they found several potential possibilities to try if the cancer becomes resistant to standard drug treatment.
The discovery, which will be published in the February 15th issue of Cancer Research, demonstrates that high-throughput screening of already FDA-approved drugs can identify new therapies that could be rapidly moved to the clinic.
"This is known as 'drug repurposing,' and it is an increasingly promising way to speed up the development of treatments for cancers that do not respond well to standard therapies," said senior author Anette Duensing, M.D., assistant professor of pathology at UPCI. "Drug repurposing builds upon previous research and development efforts, and detailed information about the drug formulation and safety is usually available, meaning that it can be ready for clinical trials much faster than a brand-new drug."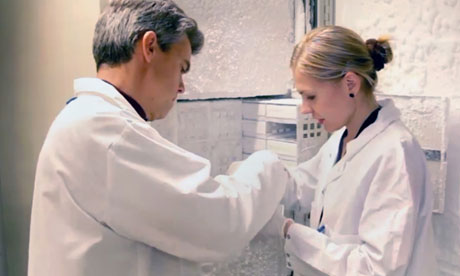 EVENT: Advances in the design and operation of particle accelerators built for basic physics research are leading to the rapid evolution of machines that deliver cancer-killing beams. Hear about the latest developments and challenges in this field from a physicist, a radiobiologist, and a clinical oncologist, and participate in a discussion about cost, access, and ethics at a symposium organized by the U.S. Department of Energy's Brookhaven National Laboratory ("Targeting Tumors: Ion Beam Accelerators Take Aim at Cancer") and at a related press briefing—both to be held at the 2014 meeting of the American Association for the Advancement of Science.
WHEN: Sunday, February 16, 2014, 8:00 a.m. Central Time (symposium) and 11:00 a.m. (press briefing)
WHERE: Symposium: Hyatt Regency Chicago, Grand Ballroom A; Press Briefing: Swissotel, AAAS briefing room, adjacent to the newsroom, second floor.
WEBCAST: For reporters unable to attend the meeting, the press briefing portion will be webcast live and archived in the AAAS meeting newsroom.